are you taking an integrated approach?
Pharmaceutical drug abuse liability assessment: Challenges and opportunities explained
In this white paper, our drug development experts Maria Pilla and Michela Tessari discuss the challenges in pharmaceutical drug abuse liability assessment and consider the advantages of adopting an integrated approach to drug development while navigating the regulatory requirements.
Key areas of discussion:
The impact of scheduling

Approaching abuse liability assessment

Animal behavioural studies

Human abuse liability studies

Benefits of an integrated approach
---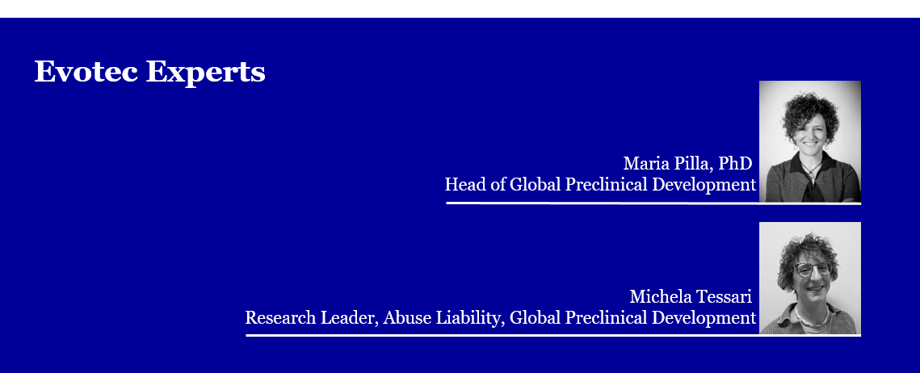 About Maria
Maria has a successful track record in designing and performing behavioural assays with relevance for drug abuse and dependence.
After concluding her PhD at the University of Cambridge (UK), she joined the pharmaceutical industry, where she contributed to the creation of a team dedicated to the investigation of abuse potential of novel drugs in later stages of development, capitalising on the great scientific, technical and regulatory experience matured in previous roles, and consolidating such experience within several years in the regulatory framework.
Maria currently leads the Preclinical Development business unit at Evotec.
About Michela
Michela is an experienced pharmaceutical scientist with

a strong expertise in the drug dependence field. She has contributed to many

programmes as an in-vivo pharmacologist responsible for the behavioural assays (pharmacodynamic and disease) in rodents with relevance for multiple CNS disease areas. She has led the implementation of GLP regulations in the conduction of behavioural studies for the investigation of abuse potential.
Michela has a degree in Biology from the University of Padua (Italy) and a postgraduate master degree in Experimental Pharmacology from the University of Milan (Italy).
She is currently responsible for abuse liability assessment studies within Preclinical Development at Evotec.
Both Maria and Michela are members of the Safety Pharmacology Society.

---
Download our experts' white paper